Accurate Diagnosis
Imaging aids are essential to the care and treatment of sports injuries and MSK conditions. Your imaging needs are met at centers with some of the most innovative technologies and techniques that modern medicine has to offer.
The RadNet MSK Imaging network operates under the leadership of word-class researchers, educators, lecturers and clinicians. Patients benefit from decades of MSK imaging experience and expertise.
Leadership
RadNet MSK Imaging medical directors are internationally known for their decades' worth of continued contributions to the field of MSK imaging. Our growing network is founded on a long history of commitment to innovation and progress in the diagnosis and treatment of sports injuries and MSK conditions.
308+Peer Reviewed Publications
200+International Conferences
MSK Education
CME Courses
Physicians count on MSK imaging specialists to assist in the care and treatment provided to patients. Through numerous CME events, RadNet MSK Imaging radiologists help physicians to learn about emerging concepts and protocols in MSK imaging.
MSK Fellowship
Exceptional MSK imaging specialists require exceptional training in MSK imaging. The RadNet MSK Imaging Fellowship educates burgeoning radiologists to prepare them for a career within an exciting field of medicine.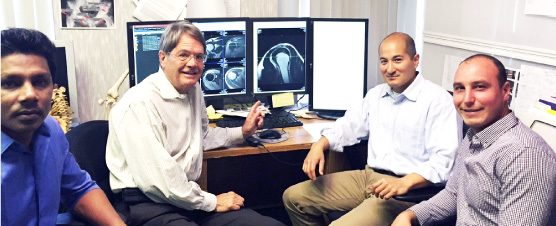 Musculoskeletal Centers
MSK imaging when and how you need it. Through a network of 53 state-of-the-art, outpatient facilities in 6 states, RadNet offers a full range of MSK imaging procedures performed with advanced imaging technology.